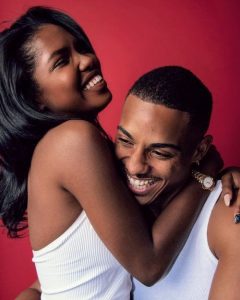 Jani on Twitter
If you're celebrating Valentine's Day this year with a special someone, you are one of the few lucky people who is not a single pringle. Expressing your feelings for your babe over the internet and also in real life during your special Valentine hang out and gift exchange should be a thing for the culture. For me, it has always been the step on our necks with your love effect on other people happy for our relationship. I mean the pressure must be felt while my partner is showing me off and me doing the same.
But if you are not yet in a relationship, you might feel a lot of pressure too. Just keep calm, you and your bone of your bone and flesh of your flesh will soon jam. Say AMEN.
Being alone is obviously better than being in a 'what are we' situation after putting effort cos omo you will be on your own o. Girlfriend will not post you, gift you won't get. Worst feeling? Seeing her celebrating someone else on V-Day, she don run you street be dat, welcome to the premium tears party. Lmao
But not to worry, if you have a boo that's down for you, here are 20 messages you can send or share as captions on photos. Enjoy! Happy Valentine's Day in advance!
Look at us. Hey! Look at us now! Who would have thought? Certainly not me. You are the best gift that has happened to me in the past months and I cherish you, my love bug.
Lucky to have been loved up with you this Valentine. You are my ray of sunshine when the darkness goes away. I adore you.
Whatever our souls are made of, hers and mine are the same.
My eyes are always looking for some heart eyes in yours. I love you, babe. Happy Valentine.
This is not a commercial celebration. I love you for real and our souls are made for each other. Happy V-Day.
It's Valentine's day and I'm celebrating the love of my life. We are not perfect or better off at this love thing. We simply choose each other every day.
Thank you Sweetheart for being the most awesome person in my life. I love you xoxo.




Thank you for letting me love you and for loving me in return. I am so lucky to have you. HVD.
Our love keeps blooming every time like flowers. My love for you is infinite.
You are my love, my best friend, my one and only. Now let me be your Valentine and more.
Mines- No one can measure what my heart holds for you. It's huge and thanks for occupying it.
If the love pill was a person. It'd be my amazing crazy girlfriend with stupid faces. Lol. Everyone wants their babe to be all shades of cute and womanly with a lirru bit of dangbana choco, I'm glad you are mine. I promise to be on my best behavior this Valentine. I love you Stupid.
You are an incredible woman. Thanks for always believing in me and making us work no matter the weather. I love you superwoman.
Menu for Valentine's day? Me 'n' U, conversation, wine, and a lotta kisses. I don't mind other do-ables too. Your macho man is ready to serve you, the Queen.
(insert number) years later, we are still celebrating Valentine together and loving it. You're a gem.
I don't know if I'm doing this Valentine thing right but run away with me. Let's build our Love Island.
I wish I know how to quit you! You are my all shades of wonder. Thank you for creating a safe space for our love to flourish.
I don't know if I'll ever get tired of you. But whenever my heart wants to wander, I remind myself I'm the luckiest man for having you.
Cheers to my partner in crime and lover at heart. Valentine feels better with you in it.
Feeling Valentine's, might delete later but not how much you mean to me.
Thanks for coming! Whether you're single or coupled up, our Valentine party 'Journey to Tango' is one you should watch out for in February. Details coming soon! Stay in touch.
Do you love this? Follow the writer here
@thetokesuave on IG
@TheTokeSuave on Twitter
Leave a comment below.