The #EndSARS protest started as vibrant, energetic, and a strong call to ending police brutality, harassment, extortion, and kidnapping in Nigeria.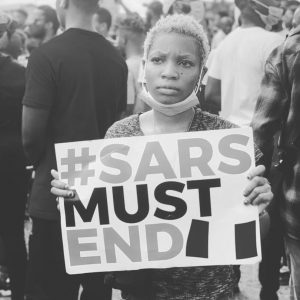 On 20/10/2020, peaceful protesters at the Lekki Tollgate, Lagos, were shot at by the Military thereby leaving a lot of people dead, injured and even those who managed to escape the scene were left mentally scarred from the horrific incident.
What was thought of as a movement that could bring the Nigerian government to accountability and reform turned out to be a massacre and a lot of hoodlums have used this avenue to loot and burn down private and public establishments in Lagos and other states in Nigeria?
To add to, social media has been saturated with a lot of unverified news and old videos from horrible events in the past have resurfaced enabling the spreader to gain more tractions.
The reality of this is that the notion of the #EndSARS movement has been hijacked and has been unquestionably decided by completely uncontrollable circumstances right now.
Right now, the vast majority of our lives is decided by our responses to the after events of the circumstances. Thus, the goal isn't to get rid of all painful thoughts of people that have died, angry feelings, or life circumstances that played out during the #EndSARS protest. Because that is impossible. The goal is to change your response to them starting today.
Take this note to yourself: things will continue to happen that are unexpected, undesirable, undeserved, and uncontrollable but you can choose to take the next step.
What matters is that you find the mental strength to leave in the past those parts of this protest that is over which is 'peaceful protest' because that has changed. Right now, what has happened is uncontrollable; what you do now changes everything!
Of course, knowing this and living the lifestyle that reinforces this truth are two different things. Right now, everyone that has participated in the protest is mentally drained. It was one journey we all believed in. In the weeks ahead, we all need to discover how to conquer the mental fatigue this protest has cost us and be whole again to be able to restore our stance, here are five ways to do that personally.
1. The most powerful changes happen in your life when you decide to take control of what you do have power over instead of craving control over everything you don't. You have control over your phone, stay away from social media. It's draining when you go and there is no good news. Stay away!
2. The secret to getting ahead today is to focus all your energy not on fixing and fighting the old and unchangeable but on building and growing something new and different.
3. Try stepping onto a brand new path or a routine that brings you comfort like reading, playing games, etc. It might be difficult to go back to these things as you might feel like you are not being considerate with the situation going on around you but what is more difficult is remaining in a situation that no longer fits or no longer exists.
4. Staying away from things that are mentally draining like the media doesn't mean you don't care about people who lost their lives in this protest. It is just realizing that the only thing you have control over is yourself at this very moment.
5. Truth be told, inner peace and mental strength begin the moment you take a new breath and choose not to allow uncontrollable events to dominate you in the present. You are what you choose to become at this moment. Let go, breathe, and begin again.
As things are still heated up, please stay indoors and stay safe while investigations are ongoing about the impunities of the Military in the killings of Lekki protesters.
Do you like this? Follow the writer here on IG and Instagram @thetokesuave
Leave a comment below!